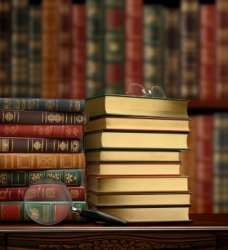 You probably have your favorite type of book, either fiction or non-fiction; however, you might be interested in knowing about all of the sub-types, or "genres" of books which are available.
Different Types of Books
All books are either non-fiction or fiction. Non-fiction books contain factual information, such as biographies and history books. Fiction books contain a story which was made up by the author.
Non-fiction
Biographies are examples of nonfiction works. Most biographies are nonfiction, but not all nonfiction works are biographies by any means. We say "most" biographies, because a biography of a fictional character is really a fictional book.
Journals such as The Diary of Anne Frank is also a journal, but it is a nonfiction journal.
Other examples of non-fiction books are "how to" books and travel books.
Fiction
The most commonly read works are works of fiction. Fiction books are ones that have been made up. Perhaps some of their elements are based on hints of truth, but they have been elaborated, fabricated, and used to embellish into a new story.
Some examples of fiction books are The Sun Also Rises, To Kill A Mockingbird, and Their Eyes Were Watching God.
Genres of Books
The two types of books can be further divided into many different sub-types, called "genres." Here are some of the different genres of books which are available today. After we list all of them, we will discuss some of the more popular genres.
Science fiction
Drama
Romance
Mystery
Horror
Self help
Guide
Travel
Children's
Religious
Science
History
Math
Poetry
Encyclopedias
Dictionaries
Comics
Art
Cookbooks
Diaries
Journals
Prayer books
Series
Biographies
Autobiographies
Fantasy
Two of the most interesting genres of books are satire and anthologies.
Satire
Satires, in the most basic definition, are works making fun of some sort of person or institution. Political satires, such as A Confederacy of Dunces, are quite popular works.
Generally, they are written to make fun of something, but that does not mean that it has to be a hysterical type of humor. The humor might be rather dark, and quite a number of times, it certainly is.
Anthologies
Students who have taken a class in college in Shakespeare or the Romantics probably know a thing or two about anthologies, since they are frequently on the "must buy" list for these sorts of classes. Anthologies are compilations of many different works. For example, you could purchase an anthology containing all of the works of Shakespeare.
In addition to the actual works, there will also usually be background information about the time period or the writer. Some of them will include critical discourses in the back, although they do not always have to.
Explore the Types and Genres of Books
Now you know the names of different types and genres of books, you can continue exploring and learning about all of them. Who knows, you may find a new favorite!