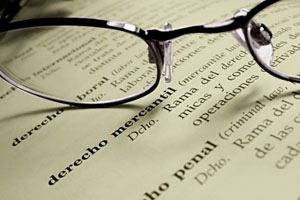 Whether you're a student learning Spanish for the first time or an adult brushing up on the language before a business trip, Spanish grammar rules can be tricky. Finding a quick and easy reference Web site to look up tricky Spanish grammar rules helps students, teachers, business people and all who seek to speak and write fluent Spanish.
About Spanish Grammar Rules
Grammar simply means the set of rules, both stated and understood, that govern the pattern of language. Grammar includes sentence structure, parts of speech, and word choice. Each language has its own grammar rules governing everything from verb tense to pronoun use.
Andalusian linguist Antonio di Nebrija wrote the first Spanish language grammar rules in 1492, giving Spanish the distinction as one of the first Romance languages to have a written grammar.
The Spanish language is a two gender language, which means that nouns are assigned a gender, regardless of whether the object in question can actually be considered male or female. Noun classifications occur in many Romance languages, including Spanish and French. English does not use noun classifications.
Verb tenses present challenges to English speakers learning Spanish. Unlike English, which usually alters the suffix of the verb to alter the tense, there are six unique spellings for each verb tense in Spanish.
Spanish speakers use adjectives similarly to English speakers with a few exceptions. Spanish grammar rules call for adjectives to be added after the noun, rather than before the noun as in English. Adjectives must agree in gender and number with the noun, meaning that a plural noun must take a plural adjective. Lastly, in Spanish, adjectives can sometimes stand in for nouns.
Determiners too must agree with their subject in both gender and number. Definite articles, for examples, are both singular and plural. Possessives also follow a similar rule.
Prepositions and prepositional phrases in Spanish are slightly different from English prepositions and phrases. The Spanish language includes many prepositions, but they are used more precisely than English ones. In English, a preposition can change a verb's meaning. For example, we might say in English, "He ran up a flight of stairs" or "He ran out of gas on the highway." In these examples, the verb 'ran' is used both times, but the meaning of the prepositional phrase changes our understanding of the verb 'ran'. In Spanish, completely different verbs would be used in these samples. Translating each sentence is not a direct, word by word translation.
Resources
A simple introductory article can't begin to explain all the nuances and beauty of the Spanish language, nor can it provide adequate help to all interested in learning the Spanish language. The resources below run the gamut from help sites for students to sites aimed at adults learning Spanish for the first time.