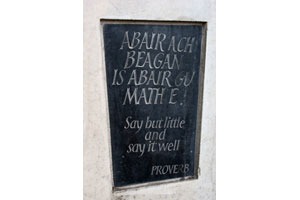 Both Scottish and Irish Gaelic are still active and living languages; however, their importance relates more to their cultural and historical significance than on the number of people who speak them.
Linguistically, Scottish Gaelic and Irish Gaelic are closely related, but speakers of one language are not likely to understand the language of the other. Additionally, there are distinct dialects spoken. For example, there are three dialects of Irish Gaelic:
Today, there are approximately 60,000 speakers of Scottish Gaelic and roughly the same number of Irish Gaelic speakers. Both languages are currently in decline, as every successive generation produces fewer fluent speakers. The active regions of Scottish Gaelic are primarily in the northern most regions of Scotland, whereas Irish Gaelic is mostly concentrated in the western parts of the republic.
Popular Gaelic Words
The following words are given in the Munster dialect:
go raibh maith agat - thank you
ta failte romhat - you are welcome
Online Resources for Gaelic Words
The online resources deal with various aspects of Gaelic words and, therefore, will be useful to varying people with diverse interests. Some sites are oriented towards Scottish Gaelic, while some are Irish Gaelic focused. Some have a linguistic aim, while others are geared towards the needs of the traveler.
Wherever your interest in Gaelic words stems from, you should be able to find information that is useful to you in the website references listed below
Other Ways to Study the Gaelic Language
There are many resources available to study Gaelic. Libraries and museums whose collections pertain to Scotland and Ireland will sometimes feature manuscripts or other historical information on Gaelic words. Explore some of the cultural institutions in your area, including the colleges and universities, to see if you can uncover more resources with which to study the Gaelic languages.