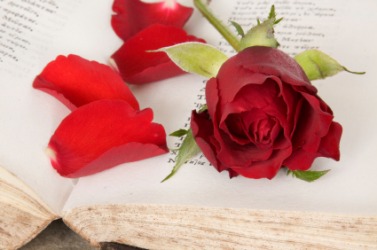 Spanish is understood to be a very beautiful and romantic language – no wonder people are always looking for love poems and quotes in Spanish. You might be looking for love poems and quotes in Spanish because the person you love is a Spanish speaker. Or, you might be doing a Spanish class project, or simply interested in the Spanish language. Whatever the reason, you will find yourself falling in love with the sound of romance in the Spanish language. Keep reading for more information about Spanish and love poems and quotes in that language – and try memorizing some to impress your next date!
Famous Spanish-Speaking Poets and Their Words
Frederico Garcia Loca was a Spanish poet who wrote a lot of love poems and has many famous quotes. Some of his most famous poems are "Romance de la Luna" and "La Guitarra." He liked to write about love and the night scenery, and reading his poems can be very romantic.
The opening of his poem, "Romance de la Luna," is extremely romantic. These are the first few lines of the poem:
La luna vino a la fraguacon su polisуn de nardos.El niсo la mira mira.El niсo la esta mirando.En el aire conmovidomueve la luna sus brazosy enseсa, l'abrica y pura,sus senos de duro estaсo.
Another famous Spanish-Speaking poet was Antonio Marchado. He is famous for his love poems that include war and death among other themes. Perhaps one of the most famous poets in the Spanish language is Garcilaso de la Vega. Here are the first two stanzas of his poem, "Amor, Amor."
Amor, amor, un hábito vestíel cual de vuestro paño fue cortado;al vestir ancho fue, más apretadoy estrecho cuando estuvo sobre mí.Después acá de lo que consentí,tal arrepentimiento me ha tomado,que pruebo alguna vez, de congojado,a romper esto en que yo me metí.
Romantic Quotes and Sayings in the Spanish Language
Perhaps you are not looking for a full poem, but rather some loving Spanish words and phrases to say to someone you love. One quote, "te quiero y solamente usted," means that I love you and only you. Another, by Miguel Cervantes, is "no hay amor perdido entre nosotros," which means there is no lost love between the two of us.
A loving quote to learn is "el amor abre todas las puertas; el rencor las cierra," which means that love opens all doors, but hatred closes them. These words might impress your lover, but even more important is that they help to reinforce any language learning you might be doing on your own or in the classroom.
Love Poems and Quotes in Spanish
Many of the most famous love poems in Spanish are anonymous. Here are a few stanzas from "La Dulce Boca," which is a poem with an unknown author:
La dulce boca que a gustar convidaun humor entre perlas destilado,y a no invidiar aquel licor sagradoque a Júpiter ministra el garzón de Ida,¡amantes! no toquéis si queréis vida:porque entre un labio y otro coloradoAmor está de su veneno armado,cual entre flor y flor sierpe escondida.
Here the last two stanzas from another anonymous love poem, "Amor mas poderoso que la muerte" –
La reina llena de envidia,ambos los mandó a cortar;el galán que los cortabano cesaba de llorar.De ella naciera una garza,dél un fuerte gavilán;juntos vuelan por el cielo.juntos vuelan par a par.
Themes of Love Quotes and Poems in Spanish
Like the romantic poetry of many other languages, the bulk of romantic poems and quotes in Spanish focuses on idolizing a woman in the moonlight and proclaiming love for her. Use these poems and quotes on your next romantic date, or consider using them as inspiration to writer your own love quotes and poems in Spanish, which may impress your date even more.