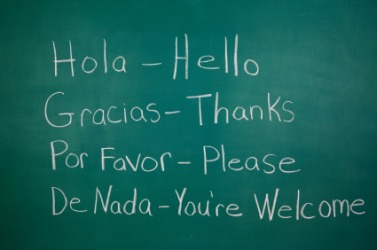 Picking up a foreign language is difficult. In the United States, most second languages are not taught until high school. With an increasing population of Spanish-speaking immigrants, however,
Due to the late introduction for most people to the language, keeping up with a fast-paced class can be hard. Using worksheets to supplement material learned in class can help you keep the various verb forms, adjectives, and rules fresh in your mind during breaks. You can also use them as test study guides. Past Spanish students who are now adults may want to brush up on their language skills by using a worksheet or two that emphasizes grammar.
Teachers can find a number of online grammar worksheets for free, as well. Schools are often short on supply money, so procuring a free online worksheet or printable can help cut classroom costs. Tutors may also find these online worksheets helpful for their various students.
Use YourDictionary.com's Grammar Links
To get information on Spanish grammar and worksheets, visit yourDictionary.com's Grammar section. Simply click on the "Grammars" button at the upper left of your screen. From there, select "Spanish." You are taken to a listing of various Spanish grammar links.
Visit the following links from yourDictionary to get Spanish worksheets:
Business Spanish Anonymous: Free online lessons relating to Spanish vocabulary, grammar, and verbs that relate to business needs are available on this helpful website. To start, click on the "Beginner Lessons" link and select the lesson you need to review. Within each lesson are online worksheets that test your understanding of key concepts. This is an excellent resource for working people who need to review or learn everyday Spanish.
Gramatica y ortografia by Juan Manuel Soto Arrivi: Navigating this website requires more than rudimentary skills. However, if you follow the "Ejercicios" link, you are taken to a page where you can select the kind of grammar you need to work on (such as prepositions). Select that type of exercise you would like to do. From there, you are taken to an online worksheet. To get the answers, select "Verificar" or "Respuetas."
Learn Spanish: The online tutorial currently includes 104 lessons in nine units. Some of the lessons and exercises cost money, so look for the red "Free" notation. Use the quizzes and lessons, such as the Regular Verbs: Part One: Quiz #1, to get worksheets you can either complete online or print off. Printable versions require Adobe Acrobat Reader. To get the answers, you must fill out the quiz online and submit it. You will be told the number of any wrong answers, and given a hint to complete it correctly.
Other Grammar Worksheets
A number of other online worksheets for Spanish grammar are available. These websites have worksheets available in different skill levels:
Spaleon: Use this website's Spanish Verb Conjugation Trainer to work on seven different tenses. You can even customize the list of verbs you will practice with. After choosing your verbs, you are taken to an online worksheet where you conjugate with various pronouns. Click on "Complete conjugation" and you will be given a list of the conjugation of the verb with each pronoun available.
Abcteach Spanish: Basic Grammar, Printables, and Worksheets: Choose from over 15 worksheets available in PDF format. A description of each is provided on the opening page. Instructions are written in Spanish on the worksheets, and no answer key is provided.
Basic Spanish Grammar from Zador Spanish Schools in Spain: Although this website does not provide worksheets or exercises, you will find a nice listing of various grammatical information in quick reference guide format that can be helpful for completing other assignments. For example, clicking on adverbs brings you to a helpful page that outlines rules and gives examples for that part of Spanish speech.