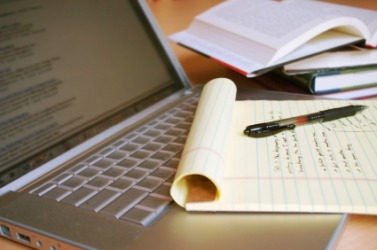 Anyone can learn how to write a book; writing a book is not a complicated process. The only items needed are a pen and paper or computer and an idea. Books are not magical beings that require training at Hogwarts to accomplish. With the rise of self-publishing, anyone can become an author. However, good writing takes effort, and published writers work hard at their craft. A book length work of fiction or nonfiction takes time, dedication, interest and knowledge to complete.
How to Write a Book
Time and Dedication
Time may be the biggest single factor that separates writers from non-writers. Writers dedicate the time to write every day, or as close to every day, as they can. They do not let the many other parts of life sidetrack them. For every excuse a non-writer uses to not write, another writer uses that as just another obstacle to overcome. For example, some writers wake up before their families in order to get a few hours of writing done before another hectic day begins. Other writers wait until everyone is asleep before they write. Writing a book can take years from initial writing to final editing and publishing. This also takes patience and dedication.
Interest and Knowledge
Some authors write from knowledge that they already possess; many others write after extensive research. Regardless of the topic being written about, writers must have interest in the topic to sustain the ups and downs of writing. Some days the words flow, and other days the words resist movement.
Both fiction and nonfiction books may require research. Nonfiction writers research many different aspects of their topic. They may look for primary or secondary sources to gather information. Some travel to different locations in order to collect data that will later be used in a book. Fiction writers engage in many of the same research techniques as nonfiction writers. For example, Jean M. Auel, author of the Earth Children series that began with Clan of the Cave Bear, researched each book for at least five years prior to beginning writing. She consulted with many experts with knowledge of the prehistoric world in order to make the world created in her fiction series as realistic and accurate as possible.
Many other fiction writers create background stories for their characters. By thinking through a character's backstory, fiction writers know how the character will then react in different situations. This also helps to keep fictional characters from looking and sounding like each other. Notable author J.K. Rowling published The Tales of Beetle Bard, a fictional book given to her fictional character Hermione in Deathly Hollows. which provided some of the fictional background for her Harry Potter series.
Steps to Writing a Book
Have a topic or story of interest: With the exception of writers who write other people's stories for money, such as ghost writers, most writers have a fiction or nonfiction story that they want to bring to life on the page.
Read: Writers read other writers for inspiration. People who want to write memoirs should read other published memoirs. Authors interested in writing science fiction or other genres should be well versed in other literature in the same genre.
Organize: Many writers create an outline of their topic or story to guide their writing. When they get stuck, they can refer back to the original outline. Outlines are flexible and can change as the book progresses. An outline also helps writers to understand where they need more information or more research.
Write: It doesn't matter where the book begins but at some point, writers must get words on the page. For novice writers, this is sometimes the most difficult part because they want the words to come out correctly the first time that they write them. Experienced writers know that writing is rewriting. To make the words sing on a page, multiple editing sessions may be required.
Questions Behind the Question
When people ask writers how to write a book, sometimes they are interested in the creative process itself. However, sometimes they are more interested in the publishing aspect of books. Querying publishers and agents can be a lengthy process and requires knowledge of the intended genre and publishing industry. Other people might really be interested in how a writer becomes rich and famous like Stephen King or John Grisham. Similar to professional bodybuilding, there are more people that write than become famous for writing. Over one hundred thousand books are published every year in print or on the Internet. Only a select few ever become really famous.