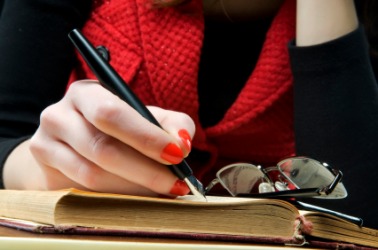 Following some tips on how to start writing a book is absolutely necessary before diving into the process. Writing a book is a challenging process, and you will need to be able to devote a great deal of time and patience to this project. Furthermore, you want to make sure that you pick an area that you have an expertise in or devotion to.
Tips on How to Start Writing a Book
Practice Writing
Before you start writing a book, it would be a good idea to try and get smaller pieces published first. Look for a website, local newspaper, or magazine that is accepting submissions from writers. Getting your name out into the media circle is a practical first step to take. Doing so will also allow you the opportunity to receive feedback on your writing. Once you're done writing your book, you will most likely want to get it published. Therefore, you should become used to accepting suggestions and criticism from others.
Plan Ahead
The suggestion to make an outline may be helpful if you're writing some sort of scientific, religious, historical, or otherwise factual account. However, even in that case, you may take on a creative angle or a new approach as you go through the work. Many times writers envision an end point; however, by the time they get to the end of the book, the work has taken on an entirely new concept.
Still though, having some idea of where you plan to go with your writing is crucial. If you do not take the time to simply jot down a few notes, you will probably wind up feeling overwhelmed. If you do not have a topic, your book could take on any number of forms and could be about a wide range of subject areas. Focusing is key to the writing process.
Take Your Time
You are not going to write a masterpiece in a day. Try and set aside a specific time of the day when you will write, if you're working with a deadline. If you're not, try to write when you're feeling inspired and focused. Do not expect all of the details to come to you immediately. After you have written a first draft of your work, you will have to return several times to edit and to make sure that the book says exactly what you want it to say.
After that, you'll need to find a publishing company. Once again, remember that patience is a virtue! Your book may very well get rejected the first time. However, keep trying! Ask for feedback regarding the reasons for rejection, and try and fix those problems. Perhaps you could even try a different publishing company who has a view of literature that is more suited to your own style.
Considerations
These tips on how to start writing a book are just basic guidelines. There are many different types of books, and once you select a genre or style, you will want to refer to guides about the specific type of book that you are writing. Of course, it should go without saying that a grammar guide is also essential to properly writing a book. A publisher does not want to see a manuscript filled with grammatical mistakes.